Attractive Paving Systems that are also Functional.
Overview of Stormwater Safe Public Spaces
Amazing Water Absorbing and Drainage Ability.
Our hydroPAVERS® will absorb a 1/4″ rain event. Additional rainwater will flow through the pavers into the prepared base, reducing puddles.
A fresh way of looking at drainage. With hydroPAVERS® pervious paving in place, the entire paved area has transformed itself into a storm drain.
Our hydroPAVERS® system is designed for proper drainage. We have a superior system compared to a run-off system leading into grassy areas. Note: Sometimes a grassy area might require some surface drainage to protect proximity buildings from run-off ingression.
No longer does water need to be sloped into drain grates. Your paved areas can become the source of water storage from a path, plaza or driveway. The permeable paving tile filters the water. Engineers now have a new tool for stormwater management, and we look forward to more innovative solutions.
Reduced Heat Island Effect. Since the hydroPAVERS® absorb rain, the surface temperature of our paver is significantly reduced as the sun and wind slowly evaporate the moisture.
Noise Reduction. The porous structure of the hydroPAVERS® also absorbs a large amount of noise. This creates quieter and more comfortable surroundings. Ideal for subways and train platforms and other noisy areas.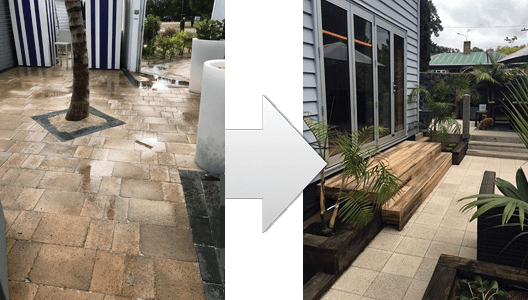 Good Water Permeability. Water can flow naturally and quickly through the paving, allowing quick and even dispersal. Rapid runoff and erosion, heavy flows in city drainage systems and the uneven settling of paving due to the irregular distribution of groundwater are all avoided. What's left is an distribution of stormwater that is manageable.
LID – Low Impact Development. As cities and towns struggle with excess water running into storm sewers from hardscape surfaces, the hydroPAVERS® incorporated into existing and new developments substantially reduces the immediate water surge and potentially can reduce/eliminate water run-off completely.
SUDS – Sustainable Drainage Systems. Increasing urbanization has caused problems with increased flash flooding after a sudden rain. As areas of vegetation are replaced by concrete, asphalt, or roofed structures, the area loses its ability to absorb rainwater. This rain is instead directed to surface water drainage systems, often overloading them and causing floods.
Rain Does Not Pool On The Surface Of The hydroPAVERS®
Fake vs Real Permeable Pavers
Don't be fooled. There's a difference in the permeable pavers in the marketplace.
More than ever companies and homeowners are choosing to install permeable or porous pavers on their driveways, public spaces, patios and around swimming pools to help direct rainwater away from storm sewer systems and back into the natural ecosystem. They also want to prevent the buildup of water on the surface so they can avoid the inconvenience of puddles and slippery surfaces.
But many suppliers are selling the concept of a permeable paving solution without having a true solution. In the graphic below you'll see a typical "fake" solution – taking a regular concrete, asphalt or interlocking brick – adding gravel between the bricks – and calling it permeable.
The problem is that the brick itself is not porous. The rainwater is supposed the fall between the bricks and drain into the soil. There is no true storm management system for the water. Often in heavy rainfall, the surface still has puddles because there is nowhere for heavy rainfall to go.
With a "real" permeable paver system like hydroPAVERS®, the storm management system is built right into the construction.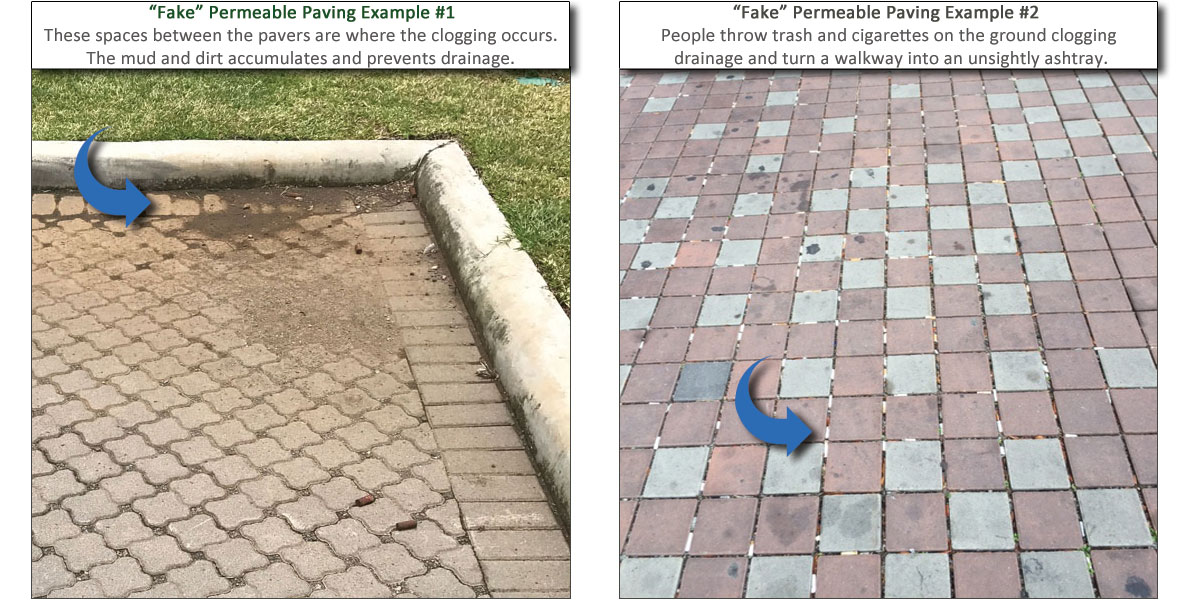 Permeable paving is a porous paving system that uses a range of sustainable materials and techniques for pervious or porous pavements. The base and subbase allow for the movement of stormwater through the surface. In addition to reducing runoff, this effectively traps suspended solids and filters pollutants from the water.
This video demonstrates the red wine being absorbed directly into the hydroPAVERS®. The paver surface may be moist, but no puddles develop, as all the liquid will be retained until saturation. Fully saturated is  equivalent to a ¼" rain event, after which it will then drain into the base below, if the rain continues. Otherwise, the retained water begins to evaporate into the air by warmth and wind which dries the surface.
How the hydroPAVERS® are Made
Here is a photo of the production facility where the hydroPAVERS® are produced. The kiln fired/dried hydroPAVERS® tile is manufactured from recycled ceramic tiles, a bentonite clay binding agent and oxide pigment. This recycled ceramic material is sourced primarily from ceramic tile products. They do not contain any hazardous substances and is safe to human health and also safe for the environment. A Bentonite clay is a group of finely-textured, non-toxic, naturally occurring minerals. It is typically associated with volcanic deposition or in sedimentary deposits, which is used in a wide variety of applications.
HydroPAVERS® are manufactured via our state-of-the-art equipment under a compression of 1600 tonnes of pressure and baked at 1200°C. for 12 hours. Manufacturing of hydroPAVERS® is a 24/7 operation, ensuring we can meet your project requirements. This process along with strict quality control also ensures that your project will remain pervious for its lifetime. The high compressive strength and durability of our finished hydroPAVERS® results in a very long life expectancy.
The hydroPAVERS® Permeable Paving System
Constuction Details
 As you can see, the system is designed to handle the flow of water through it, so the rain doesn't stay on the surface.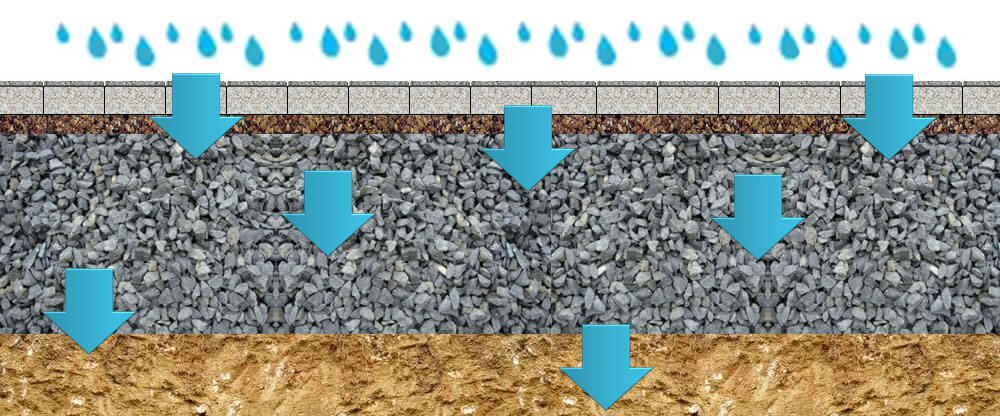 The hydroPAVERS® Special Areas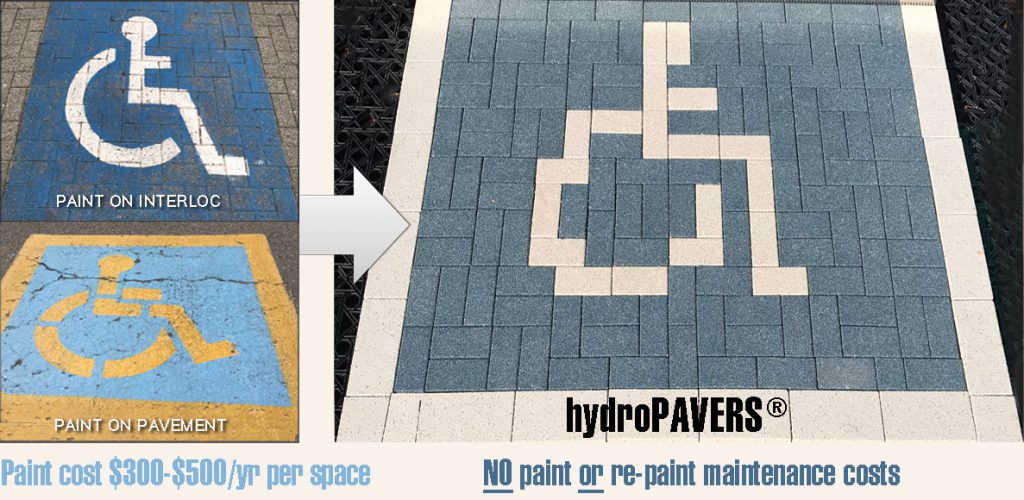 Handicap and Stroller Parking Spaces with paint on pavement or interlock have annual re-painting costs associated with them. The paint can crack and fade from snow, water, sunlight and general wear and tear – requiring the constant re-painting of spaces. Costs of $300-$500 per space can add up to thousands of additional dollars in maintenance costs every year.
In contrast, hydroPAVERS® are completely paint-free, so there are no annual painting costs associated with upkeep.
For Handicap Parking, we use Off-White and Blue hydroPAVERS® to resemble the wheelchair symbol. This is all done without painting these lines. Also, notice that the Off-White hydroPAVERS® used to outline the special area from the adjacent parking spot.
Baby Stroller Parking Areas are created using the Red and Sand hydroPAVERS® to resemble the stroller symbol. Again, this is also done without painting these lines. This eliminates the annual maintenance cost of repainting.
Did You Know
You can eliminate the hazardous puddles with hydroPAVERS® Technology. It offers you the ideal stormwater solution, combining water retention and drainage in a revolutionary beautiful paver.
Tell Us About Your Project
No matter what the size of your project, we'd love to hear about it. Just fill out the form below.