2-BURKE EMENTARRY
BURKE ELEMENTARY SPLASH PAD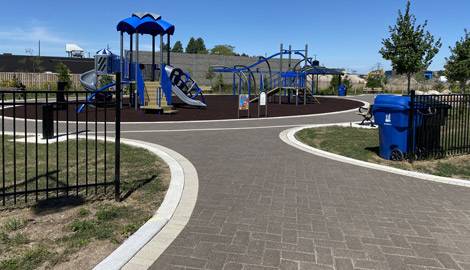 Testimonials And Feedback
July 2021
Hi Walter,
Homestead Parking Project.
We've finally had some rain! And heavy too.
Anyway the pavers showed no evidence of being wet.
Hope you are well.
Kind regards,
Jennifer, Landscape Architect. Bermuda
May 2021
During a recent renovation to a renowned Caesar Pelli designed building, Saint Thomas More, Center and Chapel at Yale University replaced an antiquated permeable paving system with a new Hydro Paver product and cannot be more pleased. We were skeptical even after a demonstration of the product, however, it does exactly what the product is designed to do, allow water to permeate through the paver. This is an extraordinary design and helps reduce runoff. In addition, with the rough environment of New England, it performed beautifully and held up to several snowstorms allowing the snow to melt through reducing icing and the need of salting. It has stood up well to large garbage truck traffic without any signs of damage. The install went extremely well and enjoyed working with the company. Highly recommend.
Director of Facilities & Building Services
New Haven, CT
July 2020
Hi Walter and Kevin, After the very heavy rain this morning and flooding in the usual hotspots I checked on BAC. Looks good.
Jennifer, Landscape Architect, Hamilton, Bermuda
June 2020
Hi Walter, Hope you are doing well!! I wanted to follow up to let you know the pavers look great at Omni! It think the colors turned out really nice together.
Laura, Project Manager, San Diego, CA
June 2020
sudden thunder shower ...
Walter, We just had a sudden downpour. I tried to get video but it was all too shaky.
Still the hydroPavers performed as advertised.
Mike. Homeowner. Madison, NJ
May 2020
Hi Walter, The product is now in my possession, thank you for a timely delivery.
June 2020 We are finishing off the installation of the Hydropavers and they look very attractive.
Kevin. Landscape Designer. Bermuda
January 2020
Hey Walter - I will send you some better photos when I get them (one is attached here now) – we used it around the pool deck and its looking fabulous! I have a few more projects coming up that are in design phase!
Yuri. Custom Home Builder, Falls Church, VA
December 2019
Project done and passed final City inspection.(did I send you pics?). The inspector asked for info and I gave it to him…he's very interested for other pending projects. I will send a pic after this email.
Michael. Key West, FL
June 2019
Walter. Alexa and crew did a fantastic job. Thank you for assisting her. The patio looks great. I will send some pictures later.
Torrential rain this evening, The performance of the system is as expected. No standing water, all the rain absorbed.
Pat. Austin, TX
May 2019
Hi The initial installation is well underway. The few pavers that were set yesterday performed well in the 2" rain we had. The uncovered base layers did well also.
Pat. Austin, TX
January 2019
Hi Walter, how are you doing? I hope all is well! So far, we love the previous hydroPavers! I am doing a class this winter, along with Sewer District about perivous hydoPAVERS®. I think it will be a great opportunity to get it out more to the residents that live around here, and elsewhere.
Thank you, Tom, Nature Center at Shaker Lakes, OH
September 2018
Walter, I received the paver samples last night, did the water test, they are amazing! I feel this would be a great solution to ensure proper water runoff for my new driveway.
E.G., Homeowner, ME
September 2018
Walter, Check out the pictures of the finished project. These came out looking amazing! There are a few spots that they are inlaid in unilock pavers and they came out awesome.
Thank you for all of your help!
N.T., Landscaper, Garfield Heights, OH
August 2018
We had what they are calling a 1000 year storm! The pavers held up amazingly well even with this.
L.K., Landscape Architect, Santa Fe, NM
July 2018
Very impressed with the pavers.
J.K., Custom Home Builder / Contractor, Aptos, CA
June 2018
Hi Walter,
Your package came today. And you are right...Seeing is believing. They are quite amazing!
Project Manager, Home Builder / Contractor, Madison, WI
March 2018
Hi Walter,
Just dropping you a line to let you know that we love our driveway. It is helping us manage our excessive road water, it's safe (no ice build up over the winter) and it's aesthetically pleasing! Thanks for dropping off the extra pavers and standing behind the product.
Dianne, Guelph, Ontario
Did You Know
You can eliminate the hazardous puddles with hydroPAVERS® Technology. It offers you the ideal stormwater solution, combining water retention and drainage in a revolutionary beautiful paver.
Tell Us About Your Project
No matter what the size of your project, we'd love to hear about it. Just fill out the form below.